Have the vinyl and hardwood flooring in your office lost its exuberance due to years of traffic?

When moving office furniture have you identified the original color of your carpeting?

Or is it just time for another routine carpet cleaning to keep your work space clean, sanitized, and smelling fresh and bacteria free?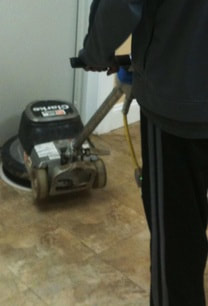 Well, it's time to contact us! A Step Above Clean, will shampoo and spot clean your carpets, or strip and wax your hardwood, vinyl, and laminate flooring at a price you can afford!

Carpet Shampooing:

We begin by vacuuming all carpets within your facility. We then use a soft bristled brush to gently spot clean the heavily soiled areas in preparation for the shampooing stage. Next, we use an industrial strength steam cleaner to both deep clean your carpets and refresh your floors. Floors should be allowed to dry for at least 2-4 hours after cleaning.

Stripping and Waxing:

We start by removing all of the dirt and debris from your floors with a soft cotton brush broom. We then mop your floors to ensure the complete removal of all debris, to maximize results. Next, we apply a safe high-grade stripping agent, and use a commercial buffer to remove the build-up of old chemicals and dirt. We then clean the area with warm water and towel dry the floors to remove all remaining stripping liquid. After the initial drying stage, we apply 3-4 coats of high-gloss wax, using a soft pad to buff your floors to a brilliant shine. Your floors are left clean, fresh, and shiny!
---