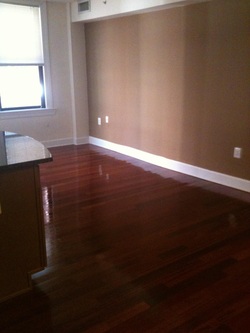 Let
A Step Above Clean,
prepare your Apartment, Condominium, or Rental unit for your next tenant. Since we understand that your time is valuable, most of our turnovers are completed within 24-48 hours. Furthermore, our trained professionals are available for small maintenance projects at the client's request.
Our unit turnover services include:
Painting, Carpet Cleaning, Bulk Trash Removal, Repair of, holes in walls, doorknobs, light fixtures, and electrical sockets, Window Cleaning, And more!
The Turnover Process
Pre-cleaning Stage:
Document with photography all areas to be cleaned, and any damaged components in need of repair.
Provide cleaning estimate to client for acceptance.

Unit Turnover Services:
1. Remove any dirt, debris, or bulk trash.
2. Provide general cleaning of property.
3. Paint all walls, baseboards, and ceilings as needed.
4. Sweep, strip and wax, or shampoo floors in all rooms.
5. Clean all windows and window sills.
6. Complete any maintenance repairs requested by the client.
---